Skip to Content
Generator Installation & Maintenance in Long Island, NY
Reliable, Affordable Commercial & Residential Generators
A whole house generator or backup generator ensures your home has power even during a blackout or power loss. At Stone Electric, we specialize in installing residential and commercial generators in Long Island, NY. Our reliable, affordable Generac generators can supply power to your entire home or a portion of your home in the event of a power outage, and protect your health and safety by keeping your power running. Our high-quality backup and house generators are built to last, and with the right care and maintenance, they can be a lifelong investment. Call us today to schedule a consultation to discuss generator installation.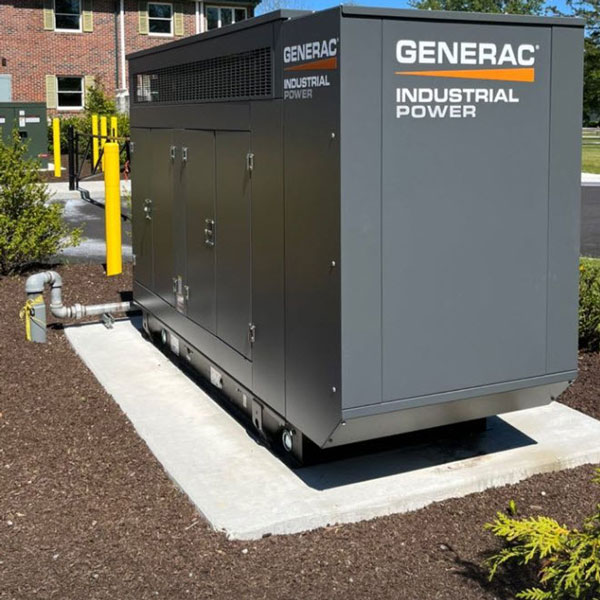 Introduction to Generators
Installing a house generator helps you stay prepared. It protects your home if there is a storm, power emergency, outage, blackout, or other problem that affects your regular power supply. The best whole-house generators can even be used in rural areas that don't have reliable access to municipal power services or grids.
Reliable Power Supply – A house generator protects your computer and electronics, makes sure medical equipment stays on, protects your comfort and safety by maintaining heating and cooling, prevents food spoilage, and keeps the lights on so you and your family are safe. Access to safe, reliable power offers nothing but advantages to homes and businesses. Power outages are happening more often across the country, and they are lasting longer. Installing a Generac generator will protect you and your family from problems associated with repeated or prolonged loss of power.
Generators as Backup Power Solutions – Generators are the safest, most reliable, and most effective backup power solution for homes and businesses. A whole home generator is activated by a switch within a minute or two of sensing a power loss. It can power your whole home safely with minimal interruption. Backup generators and portable generators can provide power to a specific circuit or area of the home. For instance, if you want to make sure your refrigerator, heating, and cooling system, computer, or medical equipment stays on during a power outage, you can use a combination of a backup generator and a backup battery system.
Types of Generators
Portable Generators – A portable generator is less expensive, ranging from $400-3,000 depending on your power needs. They typically run on gasoline or propane. You will need to find a safe way to store enough fuel on your property to ensure the generator can run uninterrupted for a long enough period. You can use a portable generator anywhere, including remote campsites or rural areas, work sheds, open carports, patios, yards, and homes. You should never use one in an enclosed space. They typically range between 3,000-8,500 watts.
Standby Generators – A home standby generator costs more, ranging between $2,000-$7,000 not including the cost of installation. They must be installed by a professional. You may need to secure a permit. Standby house generators start automatically via a transfer switch when they sense a power outage. They are typically more heavy-duty and can power an entire home. This type of house generator runs on propane or natural gas. They range from 5,000-20,000 watts.
Choosing the Right Generator
The type of generator you choose will depend on your power priorities, location, needs, goals, fuel availability, and lifestyle. You can make a list of the appliances you want to power if there is a power outage, and then review their wattages to assess how much power you need. For instance, a refrigerator requires around 600 watts of power, while a heater or air conditioner might require between 1,000-1,500 watts. If you don't want to refill your house generator multiple times per day, you should choose one that has a larger tank or is hooked up to an external fuel source. You should also consider the availability and cost of fuel in your area and your options for safe fuel storage. You have the option for natural gas or propane tanks as a fuel source for generators on Long Island, NY. Our team can assist you with the permitting process for either type of generator.
Generator Installation & Maintenance
Stone Electric specializes in professional commercial generator and house generator installation, as well as generator maintenance and repairs. We can also help you secure the proper permits for installing a generator on your property.
Generac Generator Installation – We carry all models of Generac generators. We will help you select the perfect commercial or house generator for your needs, budget, and lifestyle. We handle permitting and professional installation, as well as the installation of transfer switches for backup generators.
Generator Repairs & Maintenance – We also offer major, minor, complex, and emergency generator repairs to ensure your family or business is always protected. We also handle ongoing generator maintenance that will extend the lifespan of your generator, and reduce the risk of generator problems and costly generator repairs.
Generator Brands & Models
We carry a wide selection of the highest quality and most reliable commercial and house generators on the market. We specialize in Generac generators, which is a reputable brand that we know our customers can count on.
Choose Stone Electric for Generator Installation
We are a family-owned and operated electric contracting company. We can handle small and large-scale electric projects for local businesses and homes. We operate with honesty, integrity, and transparency. We are certified, licensed, and insured and offer free onsite consultations so you can see if we're a good fit for your needs. Our goal is to make sure that one call does it all, and we will handle permits, inspections, installation, and plumbing.
Call Today to Discuss Generac Generators in Long Island, NY
Call us today or contact us online to discuss installing a Generac generator in Long Island, NY. We can assess your home, space, and needs to find the right type of house generator for you. We are proud to be an authorized installer of quality, dependable Generac generators.